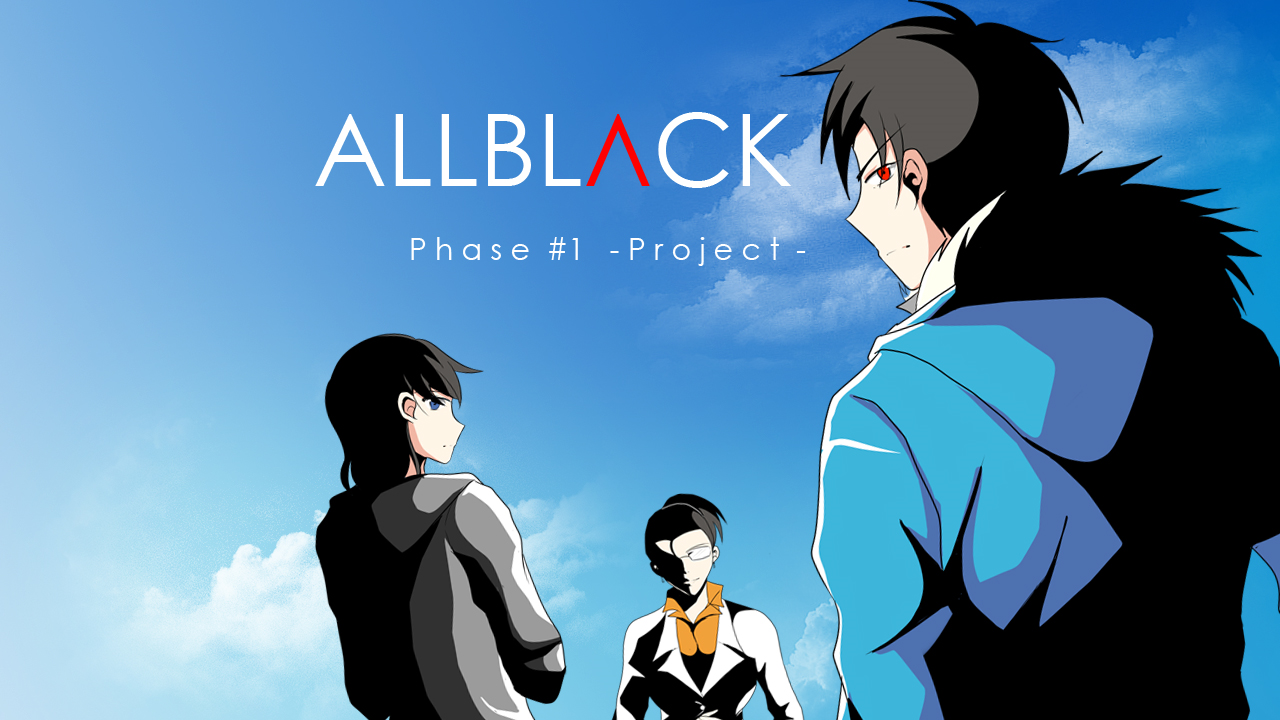 ALLBLACK Ch.1
A popular published light novel, now in visual novel format!
SYNOPSIS:
"What will you see when you are dead?"
----------------------------------------------------------------------

Last night, I woke up without being able to remember what had happened to me, as if I had just been born yesterday. But no one could also prove that "the past" is real. It's possible that I just "existed" now, and my memories were just fabricated.
This is me right now, lost, confused, and don't know where to go. Maybe I was just being born last night, but somehow, "my past" still haunted me. I can't remember it, but they said I am the one responsible who dropped the helicopter.
Fuck! If only I could remember something. I can't even remember my own name. But why?! Even though I can't remember my own name, but I can remember the one who made me like this?!
It's not only that....I'm not even sure if I'm a human being. Not after what happened today. I can stop the rain. No, it's not like I can change rain to sunny weather...I make thousand droplets of rain stop falling, hanging it in the air like defying the gravitation around me.
.... Far from the bottom of my heart, I'm sure that I have to end all of this.
My name is --------------, let me tell you my story.
----------------------------------------------------------------------
ABOUT
Finally after about 1 month of development, I proudly release ALLBLACK in visual novel format

This visual novel covers Chapter 1 of ALLBLACK Light Novel. There are 6 chapters in total. Additional chapter will be added in the future.
Next chapter:
DETAILS
Format : Kinetic Novel
Genre : Action, psychological, sci-fi
Length : 10k words, about 30-40 minutes reading
Language : English, Japanese
Platform : PC (Windows, Mac, Linux) and Android (4.4 and up)
TEAM
Original story : fsc
VN Adaptation : TNR
Proofreader : kiv (Eng ver.)
Beta-tester : altila, Stefano (Eng ver.)
QUESTION TO ALL READERS
How did you enjoy the VN overall?
What is your opinion about the characters so far? (mainly, the protagonist)
What can I improve on future release? (user-experience related)
If the final story is about 6 hours long, is it worth to release it as commercial? Would you willing to buy it and how much will you pay?
Honest feedback are greatly appreciated. Thank you!
| | |
| --- | --- |
| Updated | 24 days ago |
| Status | Released |
| Platforms | Windows, macOS, Linux, Android, HTML5 |
| Rating | |
| Author | NSAID |
| Genre | Visual Novel |
| Made with | Ren'Py, Adobe Photoshop, Paint Tool SAI |
| Tags | Anime, Dark, First-Person, Kinetic Novel, Male protagonist, Noir, renpy, Sci-fi, suspense |
| Average session | About an hour |
| Languages | English, Japanese |
| Inputs | Keyboard, Mouse, Touchscreen, Smartphone |
Install instructions
For PC: Unzip the rar and launch the .exe file
For Android: Just hit Google Play Store link. Give it a good rating and review while you're on it :D
Also available on

Comments
Log in with itch.io to leave a comment.
The plot sounds interesting. I'm going to give this a try when I can!
Don't be afraid to leave your feedback here guys :)
By the way, is everything going okay on every platform? I mean, I haven't tested on Linux, Mac and Chromebook so if there's no complaint I'll assume the game is working properly HAHAHA